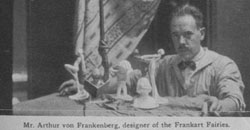 The success of the ash reciever led to a whole series of flower holders, ashtrays, lamps, ashstands, bookends, etc for the home. Miss Osborne remained the model for the entire series.
Von Frankenberg captured the nude female figure with its enticing beauty without any suggestion of vulgarity. He used as his slogan the words of Anatole France, "The most beautiful draperies are despicable compared with the lines of a beautiful body. Art is the representation of nature and nature is preeminently the human body; it is nude."
What Sculptors Want
From the New York World-Telegram, 1931
Following its policy of writing a daily human interest story, the New York World-Telegram has lately turned to the lives and opinions of well known artists' models. For sculpture it presented Miss Leone Osborne, a broad beamed young woman with a great deal of brown hair, proud of her profession and only too willing to be quoted.

"I'm all over the State Capitol of Nebraska," said Miss Osborne, "I'm a lot of mosaics. I'm Corn and Aviation and a lot of other things that were hard to pose."

Her early life is a little obscure. Her father had the curious position of traveling salesman for the American Banknote Co., and her early childhood was spent in Paris near the outer fortifications.

"Those soldiers," said Miss Osborne with a laugh. "Believe me, by the time I was twelve I knew too much for a grandmother..."

"Everbody knows I have a perfect torso....Painters know, they're more on inspiration, but sculptors are solid. They know what they want, and a girl that can't give them the flesh is no good to them..."

"Mahonri Young, the sculptor, said I was built practically the equivalent of Jack Dempsey. That is, if Dempsey was a woman, you understand. I was born in the same part of Colorado...I have lots of friends out in Thermopolyae, Wyo., but I have to tell them I'm a trained nurse because they never heard of art. They'd think I was working in a peep show."

"There isn't any romance in the studios any more. All the good sculptors are married and their wives are always wandering into the studio looking for things. Anyway, sculptors are very businesslike. They are so used to nudes. I suppose you would have to wear a fur coat to excite them. It gives you a feeling like you was made of clay."