Frankart; frankly by David Negley
I began collecting Frankart about 7 years ago, after spotting several pieces in a New York City flea market. That event sparked an obsession (craze??) that has remained to this day. What is it about these languid white metal females that makes them so attractive? For me, it's the pure, simple form captured so perfectly by Arthur Von Frankenberg, the creator of Frankart, Inc. They are elegant, yet not overdone; original, yet not revolutionary. They inspire a certain tranquility--a touchstone of an age that, while I never lived through it, must have been filled with great hope for the future.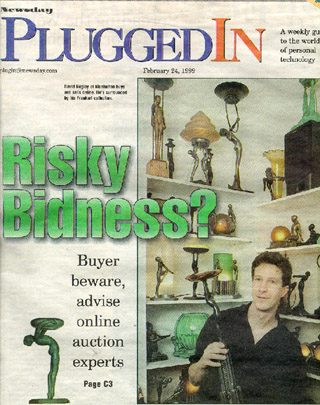 In a recent interview for Newsday (my 24 hours of fame!) I was asked how I thought the Internet had affected the antique market. I think it has had both positive and negative affects for collectors and dealers alike. I certainly would not be able to share this article and my Gallery with you, if not for the Internet. It has brought collectors (and dealers) together worldwide so that information can be more fully shared. There is now a larger audience of both groups, which has created more competition. For collectors, this is a mixed blessing. Frankart values have gone up, but new items are harder to find and more expensive.
Unfortunately, it may be the end of an era where you could slog through a muddy flea market field at 5 AM on a rainy day hoping to turn that one corner and find that Frankart lamp you've been looking for-- at a bargain price! To actually pick up an item before you buy it may also become a thing of the past. Those were the days before you would ever overhear a dealer say cynically, "No, I can get a lot more than that on the Internet."
I built my collection on lots of walking, lots of looking, lots of loyal, generous people and lots of luck. I can well recall where I "found" each piece and many have some great stories attached. (I'd like to publish a few of mine and some of yours in a future NEWS article. Please send me some of your anecdotes.) Today, I still get a thrill when someone offers me a Frankart, even though I may never meet them in person. I can't imagine being one of those collectors who merely walks around advertising the fact that they're rich and offering to "pay more than anyone else." This is the "I've got more than you" syndrome which, thankfully, affects only a very few of the Frankart collectors that I've had the opportunity to meet. I think for most of us hard core collectors, it's the challenge of finding the piece that we really live for.
It's unfortunate that there is really so little information available about Frankart. You can purchase a reproduction of the 1930-31 catalog through Penny Lane at www.penny-lane.com/frank.htm. I would love to hear from anyone out there with additional historical information about the company.
I feel I should mention the Frankart reproduction market. There are several companies that offer some well crafted, clearly marked reproductions. The largest was Sarsaparilla Deco Designs, started by Les Sackin in 1976 and bought out by Appletree, Inc in 1997. Most of these reproductions are clearly stamped "Sarsaparilla". Recently, Les has resumed control of the company, now called Love of Money, Inc. and continues to offer a line of Frankart reproductions via catalog. He can be reached at (732) 335-4837 or by email at banknotes1@aol.com.

Another company which is currently making a high quality reproduction of the Frankart lamp L201 is Decowerks. Bill Gerling, the owner, also offers a reproduction parchment shade for this lamp in tan or black; you can contact him at (714) 965-1805. There is also a lighter offered by Cigar Revival, Ltd at www.cigarlighter.com/styles.html. Please let me know if anyone else is reproducing Frankart so that we can all be aware.
Is there a Frankart user's group in the future? Thanks for reading.